You are here
VIP
Sat, 2016-01-02 15:51

—

oli
Overview
VIP is an abbreviation for Virtual IP. On other systems it is also called floating IP. A virtual IP address is an IP address that does not correspond to an actual physical network interface (port). Uses for VIPs include fault-tolerance, and mobility [Wikipedia].
Ops Center currently (v1.2.0) supports 2 different types of VIPs:
Ops Center controlled VIPs (deprecated).
keepalived controlled VIPs. [keepalived]
Adding a new VIP
Click on the VIPs item in the menu on the left and then click the Add VIP button.

Choose to which cluster the VIP should belong to (if any), the IP address of the VIP, to which network interface the VIP should be bound to and the 2 machines which are involved in the VIP failover. Cluster has just a descriptive meaning right now. This could change in the future.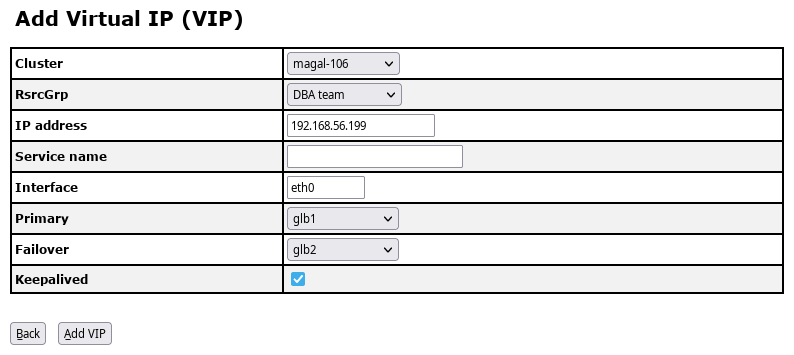 The fields have the following meaning:
| Field name | Meaning of field |
| --- | --- |
| Cluster | Cluster the VIP belongs to (if any). |
| RsrcGrp | (Resource Group) is the team the Load Balancer belongs to and to which it is cleared to. |
| IP address | IP address of the VIP. |
| Service name | If there is a service name (DNS) specified for the VIP, set it here. DNS names make your application independent from the IP address. |
| Interface | Physical network interface the VIP should be bound to. Currently this must be the same physical interface on all machines). |
| Primary | The primary (preferred) machine where the VIP should reside. |
| Failover | The failover (secondary) machine the VIP should switch to. |
| Keepalived | If keepalive should be used for controlling the VIP or not (preferred is to use it!). |
Then click to the Add VIP button to create the VIP inside the Ops Center.
In the VIP configuration overview you edit or delete a VIP again: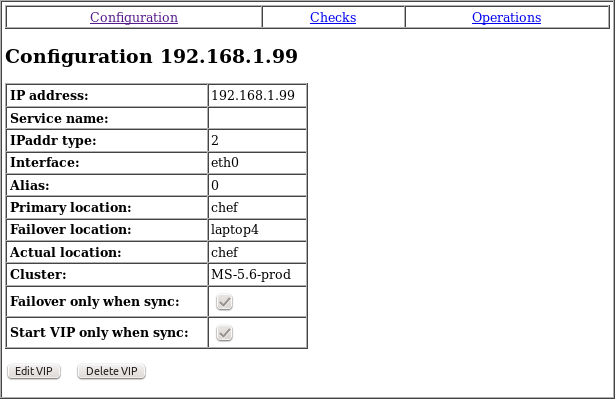 To get an overview of the state of your VIPs you can either click the Check VIP button for all checks or you can run each check individually by clicking on the Check now button: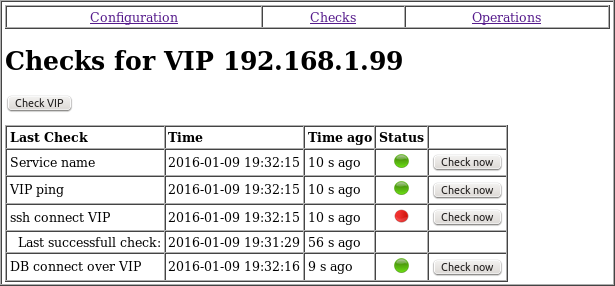 In the VIP operations tab you can:
Stop a VIP
Start a VIP
Edit a VIP
Failover a VIP